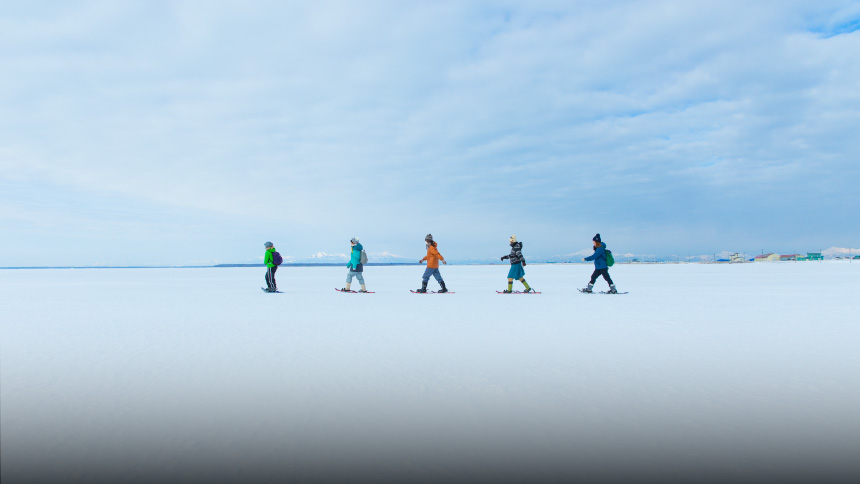 ~ The art of snow and ice ~
Seven experiences and spots that are not to be missed in
Eastern Hokkaido during the severe winter season
In reversal of summer with rich green nature, the area of East Hokkaido changes into a white world in the harsh winter season.
Severe cold and natural conditions produce overwhelming views and unique activities that can only be seen here.
We would like to introduce you the superb view that we would like you to see with your eyes.
Jewelry Ice (Toyokoro-cho)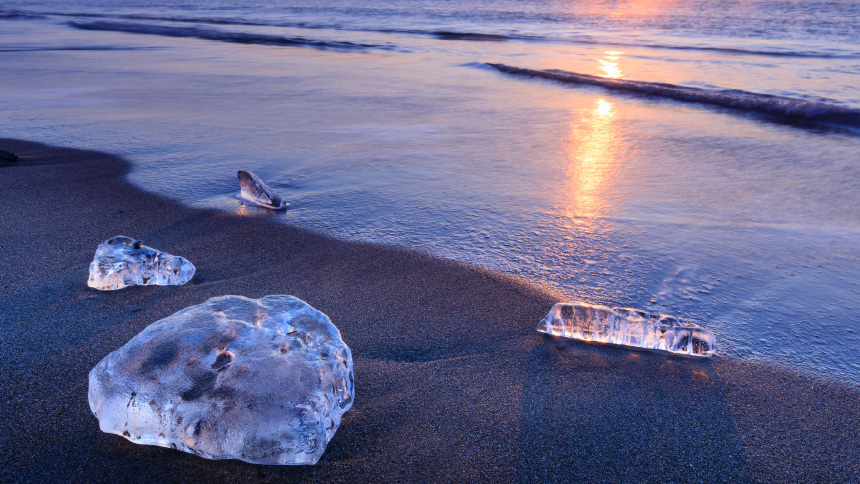 The clear ice washed on the midwinter coast is like a shiny crystal. From mid-January to mid-February, it is most glacial season in the year. On Otsu Coast of Toyokoro-cho, near the mouth of the "Tokachi River" flowing through Tokachi Plain, the frozen ice of Tokachi River flowed into the sea, is washed ashore by waves and spreads across the coast with clear ice. In 2017, it was introduced in The New York Times, etc to become famous. Many people has come to find ice jewels. As for the way to get to, it takes about 80 minutes by car from Obihiro City in Hokkaido. However, the access by guided tours or chartered taxis is recommendable because the roads freeze. The best time to see is from mid-January to late February, Hokkaido's coldest season.
Betsukai Ice Horizon(Betsukai-cho)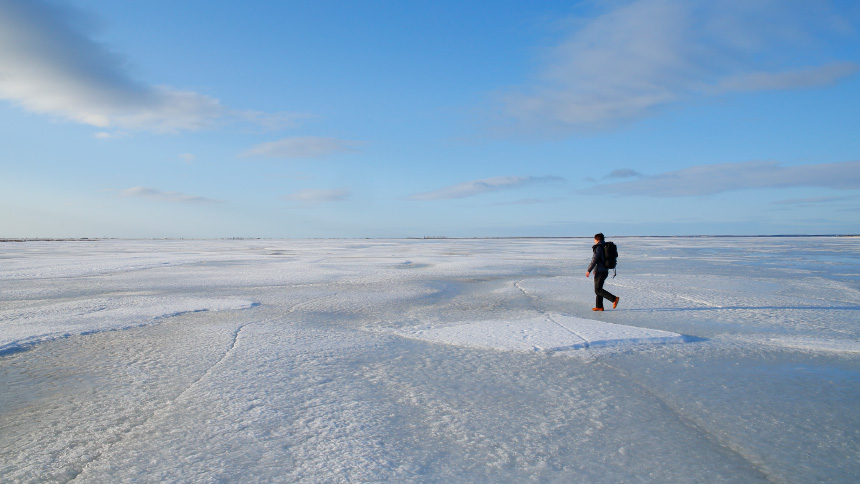 The vast white earth spread, is the east end of Hokkaido, the Notsuke Peninsula which runs out into the sea. The Notsuke Peninsula, known as the longest sandbank in Japan, has no such large ground. Yes, this white earth is actually a frozen sea. The sea on the inside of the peninsula where there is little seawater flow, freezes in winter and snow accumulates on top of the sea so that the place called the ice horizontal line, not horizontal line is built.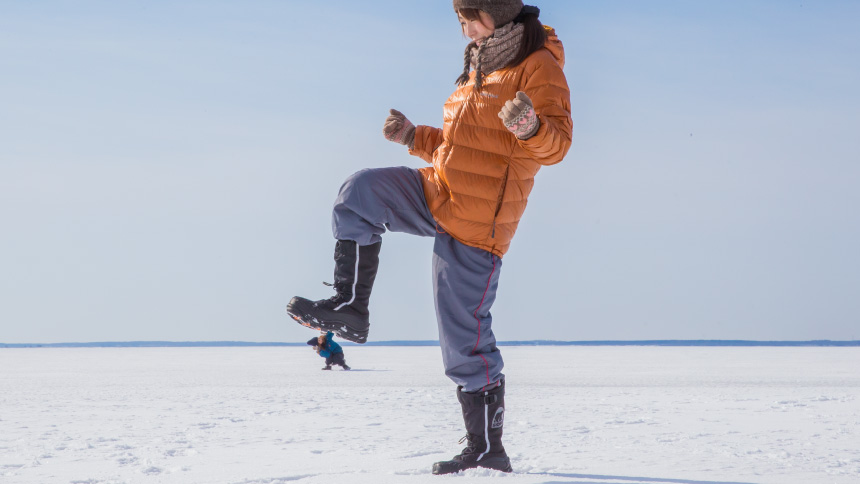 A trekking tour to walk towards starved trees called Todowara describes to the scenery of the end of the world, and a tour to enjoy white earth with snowmobiles are held. Trick shooting using illusion is also popular. Regarding the way to go, it takes about one hour from Nakashibetsu Airport by car. There is no public transportation, but you can go there from Lake Akan and Shiretoko Utoro by "East Hokkaido express bus" that runs only in winter. The best time to see is from mid-January to mid-March.
Frost flowers of Lake Akan (Kushiro City Akanko Onsen)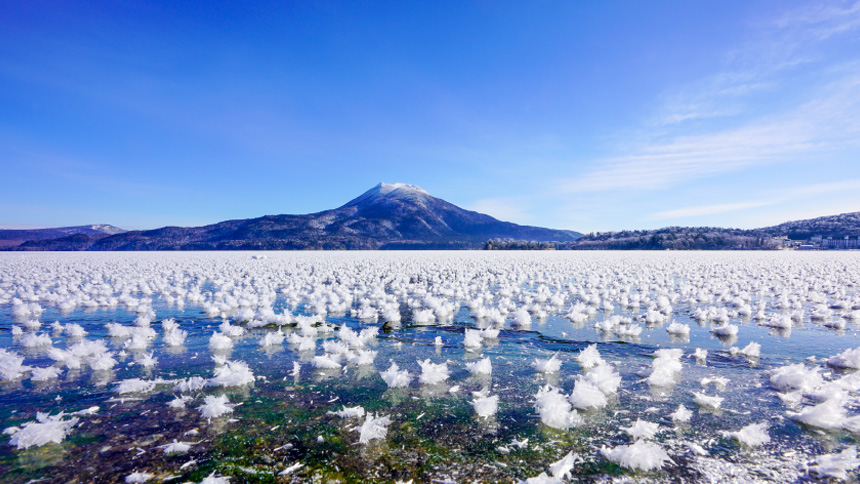 Small and lovely white flowers blooming on the lake.
In fact, this is a small ice crystal that can be made on ice in the lake only during the freezing cold morning.
It is called "Frost Flower", flower of frost, and can be seen in Lake Akan, in the severe winter period. Whether frost flowers can be made or not depends on the weather condition.
The night without wind and temperature in the early morning is about 15 degrees or less. With such conditions, small frost flowers bloom.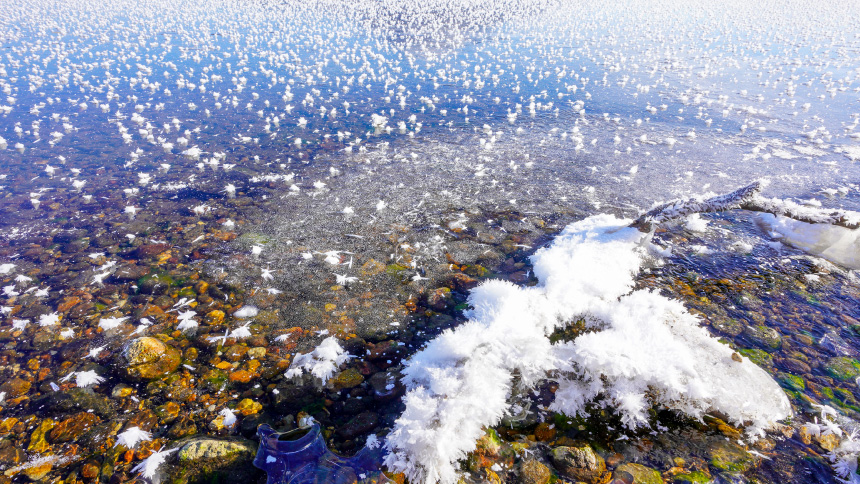 Drift Ice Walk (Shiretoko Utoro)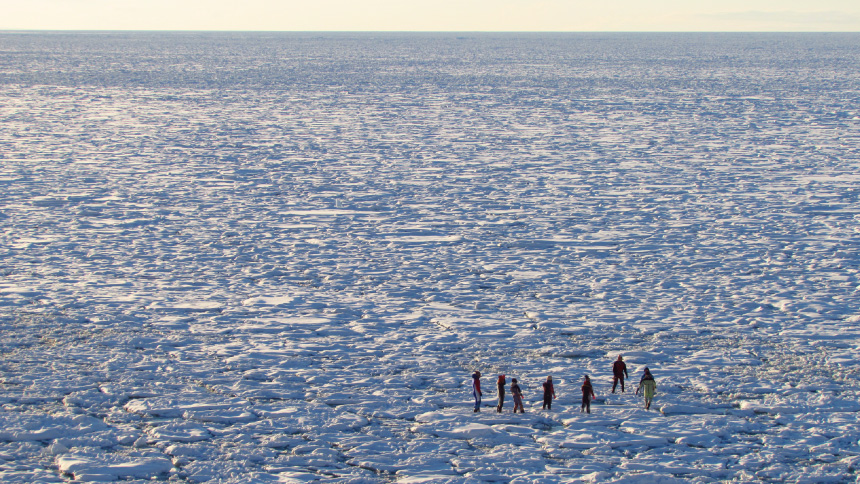 Drift ice, a famous Hokkaido specialty, flowing all the way from Amur, the north of Sea of Okhotsk.
It is common to ride Abashiri or Monbetsu's icebreaker if you enjoy drift ice. Why not walk on the drift ice like earless seal? Drift ice walk that was born in such a way is now a popular menu that about 10000 people participate in the event in a year (but it's about 40 days). People has said that it is dangerous to walk on the drift ice, but it's all right to put a thick dry suit on the whole body even if you walk or fall into the sea in this menu! It's a perfect experience for people who want to act like a child.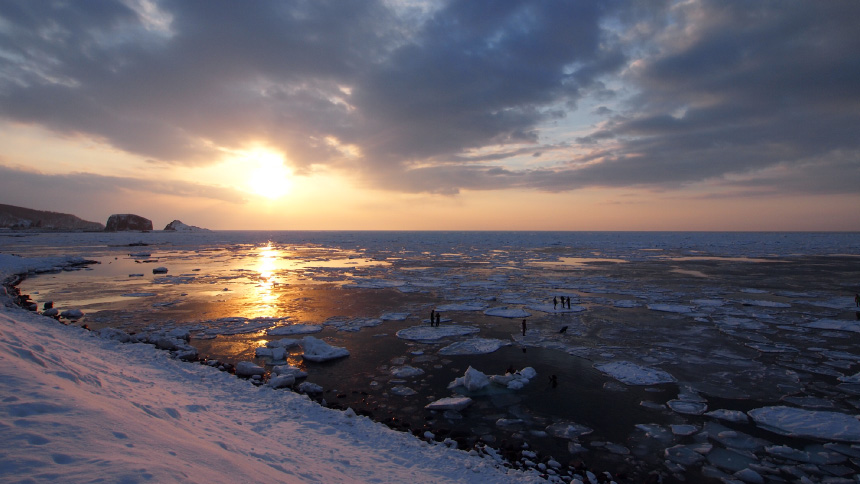 ちThe Shiretoko Utoro district is the area where most drift ice remains among drift ice spots. So you can enjoy the drift ice for relatively long periods (from early February to mid-March). The buses runs directly to Shiretoko Utoro from Memanbetsu Airport, Abashiri, Obihiro, Lake Akan, Sounkyo and others in winter.
Frost of Lake Mashu (Teshikaga)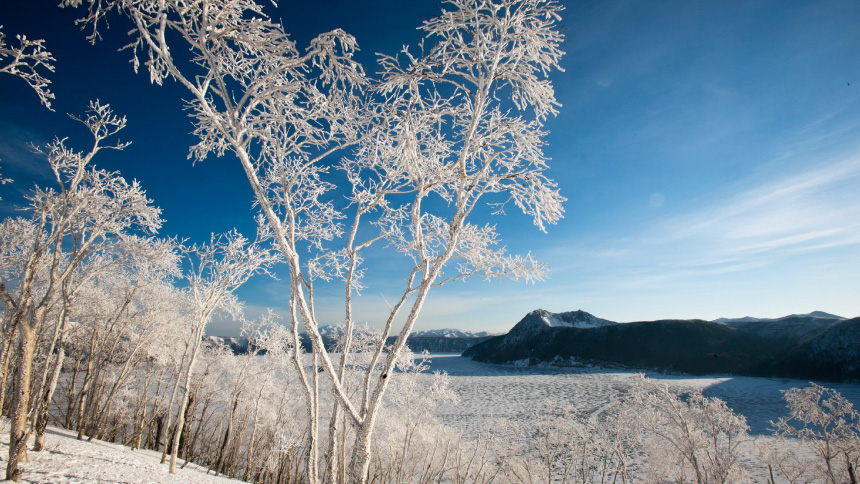 It is known as one of the most famous "mysterious lake" in Hokkaido. In winter, the lake also freezes up once a few years depending on conditions such as temperature. Then, "Rime ice" is known as the view of Lake Mashu in midwinter. The rime ice is made adhere to trees and water vapor in a very cold morning that is less than 15 degrees centigrade. It adheres to the trees around Lake Mashu to spread the white silver world of white trees. For those who want to enjoy the early morning rime ice at Lake Mashu, a morning rime ice tour conducted by a local travel agency is recommended. At Lake Mashu or on the way to there, you can see frost and diamond dust stained in morning glow if the weather is good.
Lake Shikaribetsu Kotan (Shikaoi-cho)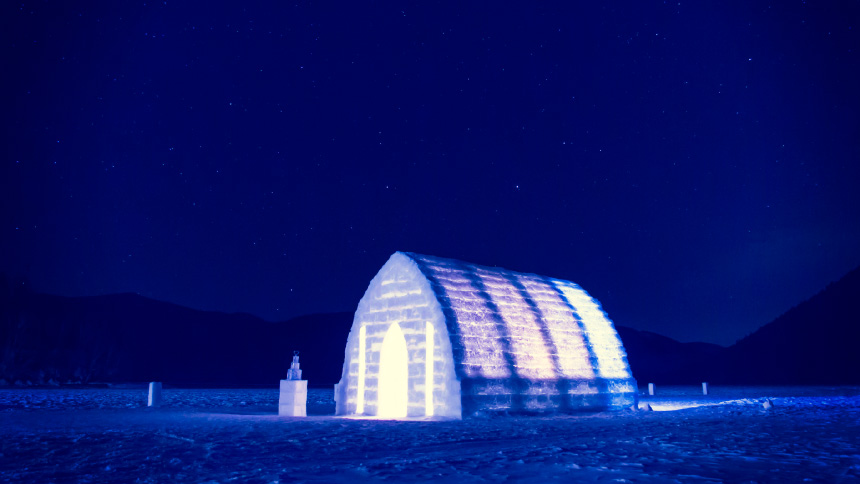 Lake Shikaribetsu in Shikaoi-cho is located at the highest altitude among lakes in Hokkaido. ,br > Lake Shikaribetsu Kotan widely known as the seasonal tradition in the winter, began nearly 40 years ago, in 1980. Lake Shikaribetsu Kotan is a phantom village that people enjoy winter on frozen lakes.
There are ice houses, called iggru, which are made up of blocks of snow, and there is an ice bar or hole,
Other than that, there are also ice open-air bath being unique to the area and the events that hold wedding ceremonies in ice chapel. Regardng the way to get to, it takes about 90 minutes by car from Obihiro Airport, Obihiro City, and Tokachigawa Onsen. There are Local Bus from Obihiro Station and Shintoku Station.
Abashiri and Mombetsu drift ice vessels (Abashiri City, Mombetsu City)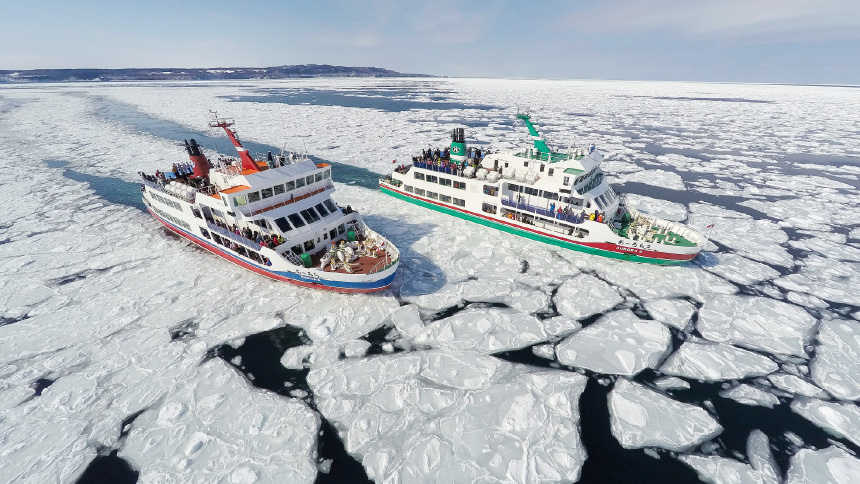 Lastly, it is an essential part of East Hokkaido's journey in winter, namely the drift ice ship cruise. The representative drift ice ship running in Sea of Okhotsk is Aurora in Abashiri. Aurora is operated from late January to early April, and the drift ice encounter rate is high from early February to early March. The large Aurora, which can be boarded by about 500 people, is characterized by riding on the drift ice and dividing by weight.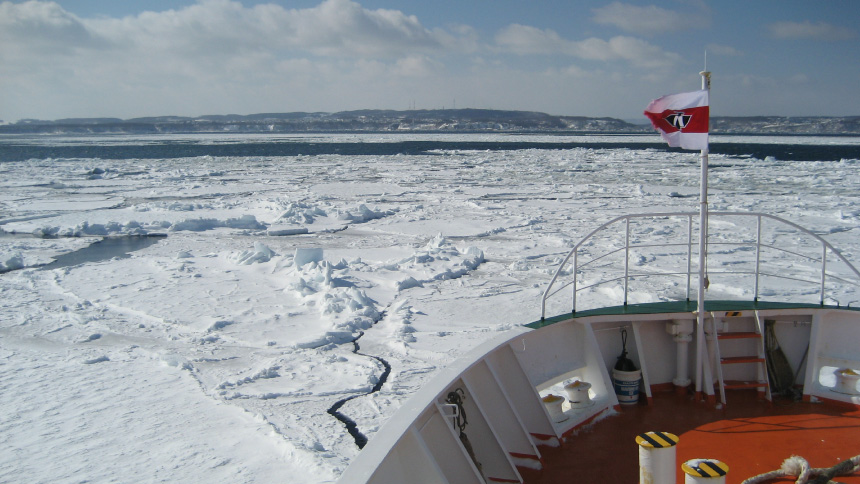 The Garinko II, which is characterized by the red hull, departs from Monbetsu.
The feature is that it is a powerful way to crack the ice with a screwdriver as the name. Garinko II is operated from late January to late March. February is relatively high rate to encounter. For both Abashiri and Monbetsu, a limited time bus "East Hokkaido express bus" is available in winter.
For more information, please click here.
The local tour reservation is here (Go to East Hokkaido Travel Lab.).