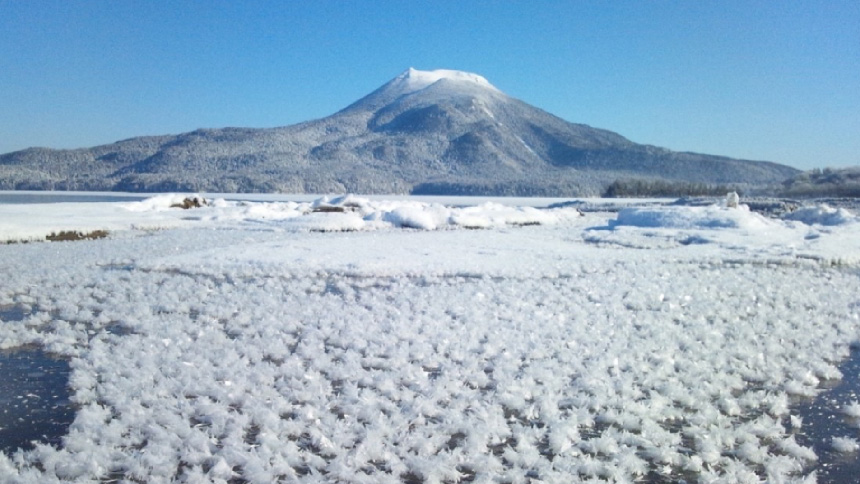 The Frost Flowers of Lake Akan
Frost Flowers"", snow flowers blooming on the lake's surface of Lake Akan at the snow and ice covered city of Kushiro. These are ice crystals shaped like flowers that can only be seen in the periods of December to March when Lake Akan is blanketed by ice. Atop the frozen surface of the lake you will be able to see a scenery blooming like a white flower field. Called the ""Flowers of Winter"" for their beauty, these flowers of ice that can only grow in calm, windless periods become hot topics of appreciation when they open up to the golden rays of the sun, imparting a sense of the ethereal beauty of glass crafts. Truly, ""Frost Flowers"" teach us the mysticism of nature. Frost Flowers"" are made when crystalized fog are created on the surface of the frozen-over lake, and those gradually swell up at the same time they cool down around past 00:00 AM.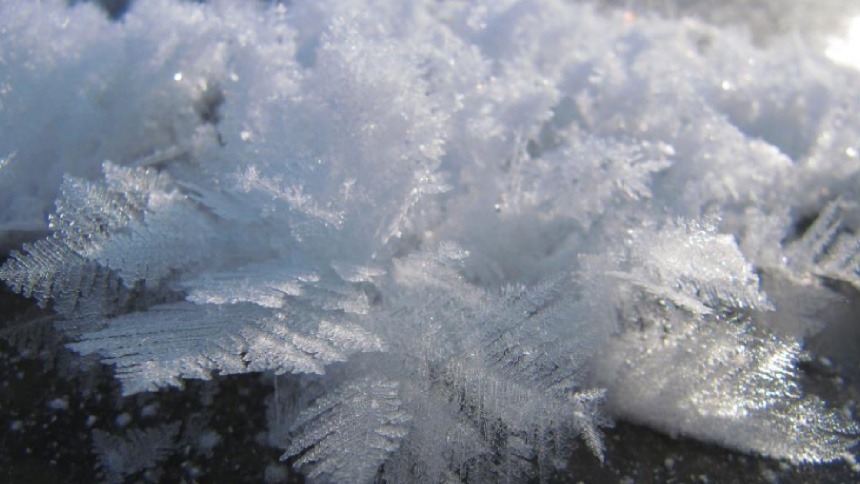 To grow ""Frost Flowers"", the following rules must be followed; first, the surface of the lake must be frozen over and without snow; second, the temperature must be below -15 degrees: and third, there must be no wind. Only by fulfilling these 3 requirements can ""Frost Flowers"" be seen. On top of that, this is a naturally occuring phenomenon that can only be seen in quiet mornings; truly a miracle flower that cannot be seen unless all weather requirements have been fulfilled. As Lake Akan is located in a large caldera, it is perfect for cooling down. Mountains corner it from all sides, and winds rarely blow, making the Lake the perfect place for the ""Frost Flowers"". If a particular ""Frost Flower"" grows up in the size of a rose, then its petals witll grow as one and you might be able to also see them with delicate linings like the flumes of a bird. Frost Flowers"" are utterly delicate, and even if they grow during midnight they will scatter like dust if even a small breeze passes by in the morning. They have an ephemeral lifespan, melting in a heartbeat and returning back to the lake. ""Frost Flowers"" lucky enough to grow into the morning can grow up to a size of a palm. It is no exaggeration then that to call the sight of a frozen crystal flowerbed like a corsage is a miracle sight.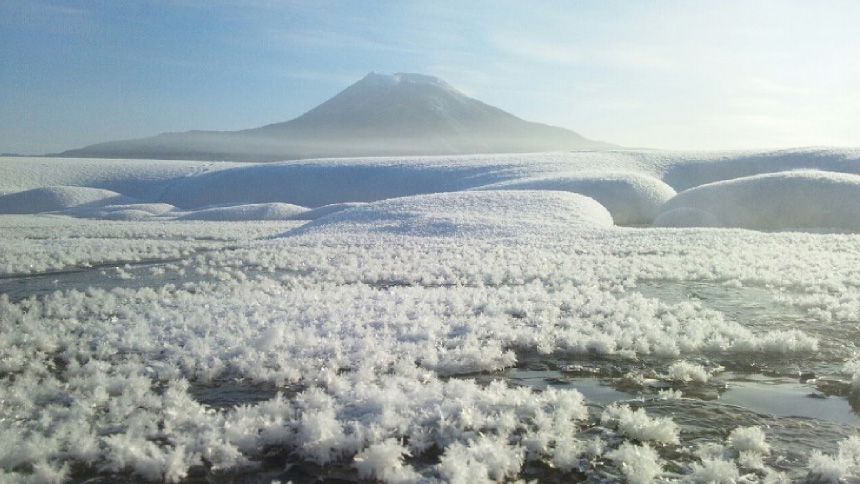 There are many yutsubo (holes in the lake that haven't froze over) in Lake Akan, and ""Frost Flowers"" grow from there. While searching for ""Frost Flowers"" there is a risk that you might fall down and get stuck in such holes. Frost Flower Watching on your own is extremely dangerous, so we recommend that you participate in a tour that includes a local guide.
The chances of seeing ""Frost Flowers"" are around 30%. If you can, you should stay for over 2 nights and raise your chances by taking into account the place and conditions. In this tour, you will be guided to places where there is a high chance of ""Frost Flowers"" appearing. You might also encounter other exotic sights such as the sun rise, the Diamond Dust, and Hoarfrost.
[ Lake Akan Frost Flower]
Address: Hokkaido Kushiro-shi Akancho Akanko Onsen 2-Chome 6-20
TEL:0154-67-3200 (Akan Kanko Kyokai)
Observing Period: December ~ March *Might differ based on weather
ACCESS
By Car)Approx. 60 minutes from Kushiro Airport via National HWY 240
Approx. 90 minutes from JR Kushiro Station
By Bus)Approx. 130 minutes by Akan Bys from Kushiro Ekimae Bus Terminal, Alight at ""Akanko Bus Center"", Approx. 15 minutes by foot
The local tour reservation is here (Go to East Hokkaido Travel Lab.).