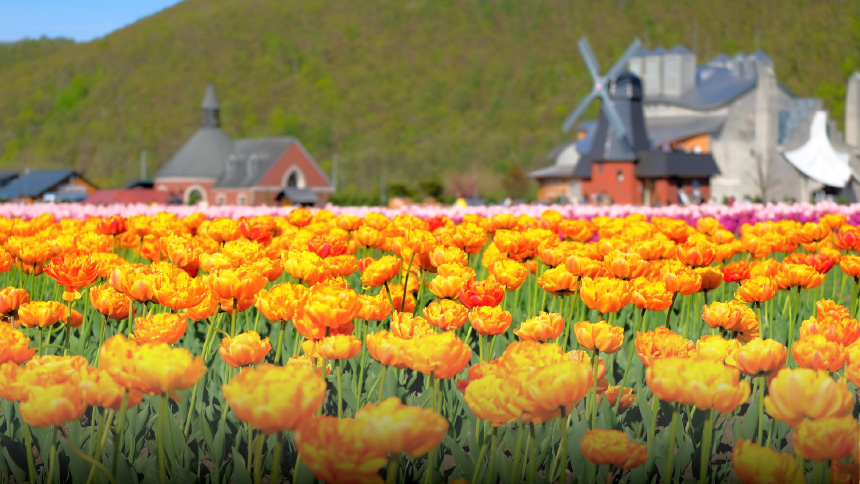 ~ From Pure White to Colorful Earth ~
Shifting from Winter to Spring, Eastern-Hokkaido
7 Spots and Events You Want to Visit Once at Least
In Honshu, the season of cherry blossoms ends during the middle to late April. You can easily find spring everywhere in Eastern-Hokkaido that has got out of the long and harsh winter.
We will introduce sights and events you may want to check in Eastern-Hokkaido where the season rapidly changes from early spring, which comes late, to spring, and from spring to summer.
Snow Wall Walk at Shiretoko Pass (Shari Town and Rausu Town)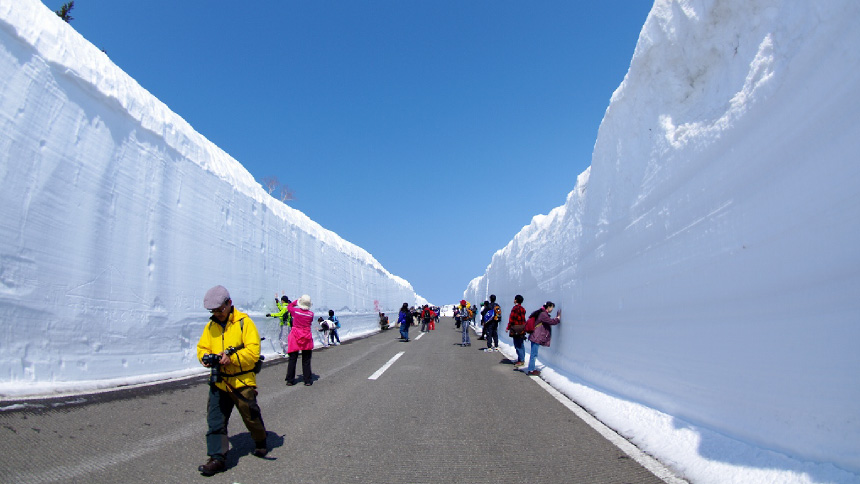 Eastern-Hokkaido's long winter forces Shiretoko Pass to close the path for about half a year.
The path opens at around late April to early May every year. The Snow Wall Walk at Shiretoko Pass is the event held in mid-April, which is a little before the opening. This event is conducted simultaneously in two towns, Shari (Utoro) and Rausu, across Shiretoko Pass. It is an event for you to get amazed and excited at its high snow wall while walking along the path under snow removing work towards opening.
For more information, please click here.
Ice Braking Cruise on Lake Akan (Lake Akan in Kushiro City)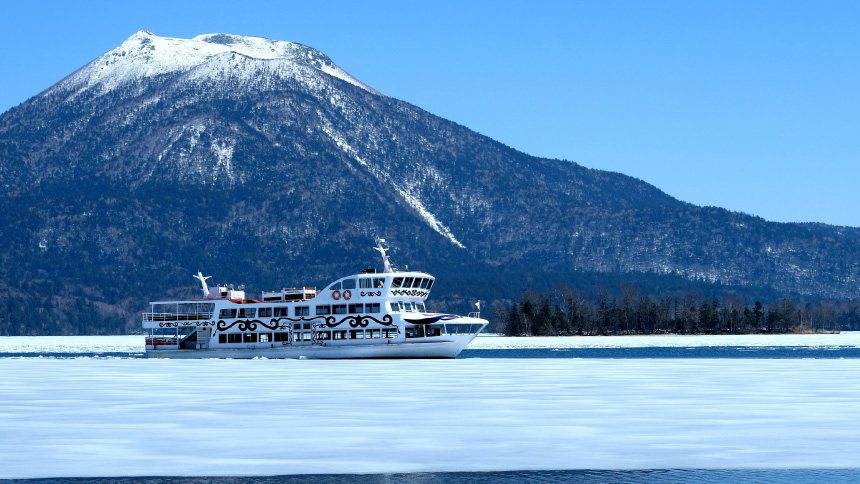 In the late April, when cherry blossoms are gone and changing to green in Honshu of Japan, the ice on Lake Akan is finally melting. The cruise that you can enjoy only for about a week in Lake Akan is the Ice Braking Cruise on Lake Akan (ice breaking sightseeing tour cruise) This cruise begins on April 21 every year, and the boat which is usually (except winter) used to offer a sightseeing excursion to the island of marimo quickly changes to just an ice drift ship. The cruising breaking transparent ice like crystals can be said that it is a late spring traditional of Lake Akan.
Tokachi Spring Garden (Tokachi Area)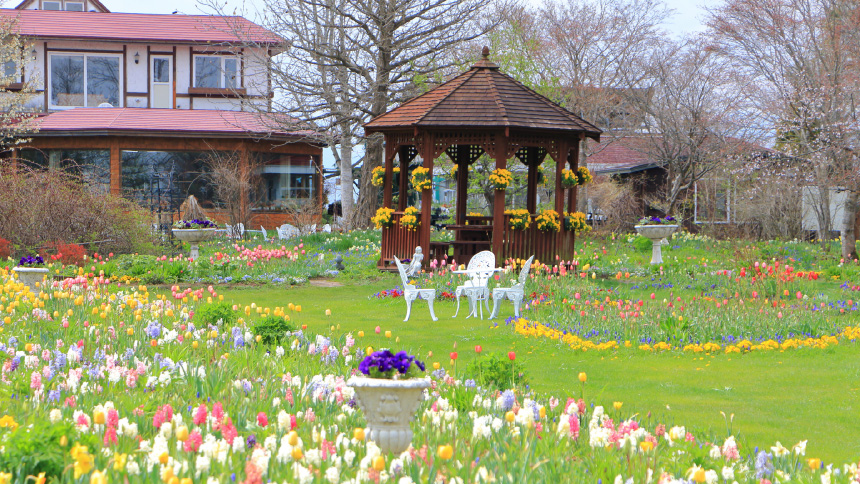 Now, at the time when you hear the sound of spring breaking off the ice from Lake Akan, Tokachi Spring Garden, where spring flowers bloom just the same time, is just opening. Five out of the eight "Hokkaido Garden Paths" are in Tokachi area, and those gardens will open after late April. Both "Shichiku Garden" known as Grandma Shichiku's happy garden and "Manabe Garden" which is famous as Japan's first conifer garden (garden mainly with various conifers) are in Obihiro City and will open around April 20th. And, the three gardens in the suburbs, "Rokka no Mori", "Tokachi Millennium Forest" and "Tokachi Hills" will open at the end of April (early Golden Week).
Hairy Crabs after Drift Ice and Annual Crab Scattering Ceremony (Abashiri City)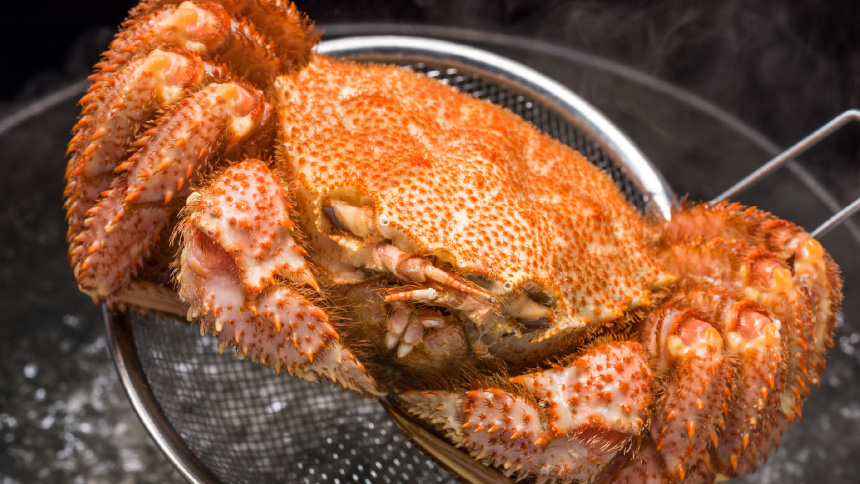 Drift ice covers the Sea of Okhotsk from January to March. Incidentally, do you know that crabs growing under ice drift become much more delicious?
Nutrition is abundant thanks to plankton which drift ice has brought. So, in the process of repetition of molting, the crabs become the state of "the hardest crab" which is filled with meat most. The best time is this period, which is just "after drift ice". The best season after drift ice is from March to May. Knowing the most delicious time, the gourmets visit Abashiri and Monbetsu in search of this hair crabs. You also may not want to miss a noteworthy event held in Abashiri City between mid-May and late May, "Spring Crab Battle in Abashiri". It is said that the main event is "Crab Scattering Ceremony" where hair crabs are scattered just like rice cakes scattered at a roof-laying ceremony.
If you visit Abashiri during this period, it is a must-see event you want to experience once at least.
Moss Phlox in Higashi Mokoto (Ozora Town)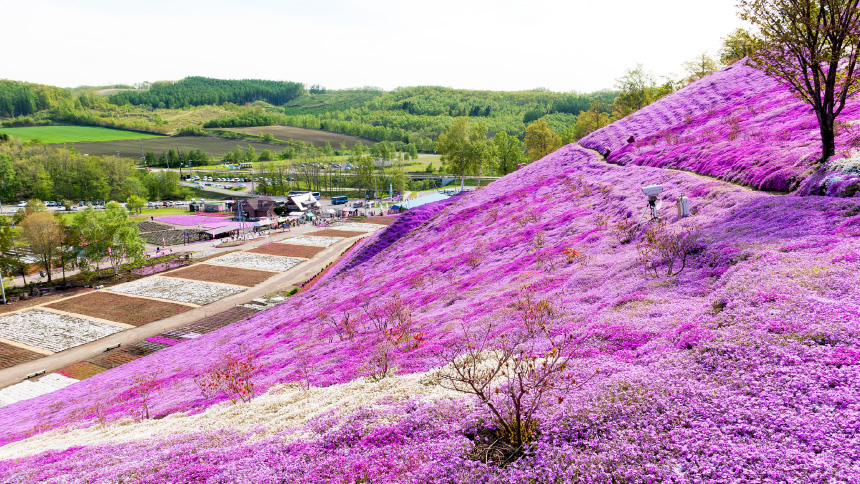 When cherry blossoms are blooming in Sapporo early May, moss phlox which dyes the whole ground into pink begins to bloom in Eastern-Hokkaido. In the area, the place where the moss phlox will bloom relatively early is "Higashi Mokoto" near Abashiri. Higashi Mokoto Moss Phlox Park located about 40 minutes by car from Abashiri City and Memanbetsu Airport is a park spreading in about 100,000 sq.m. area on a hill side. This vast place becomes a large pink carpet in May. Especially if you look down the area from top of the hill, it's just like a pink sea. It is a really superb view. The good time for you to see it may depend on the year, but you can enjoy the scenery from early May to early June. The best period is mid-May. In the case you use public transportation, you will get a bus to Higashi Mokoto from Abashiri Station. Only in the best season of moss phlox blossoms, there is a free pick-up service from Higashi Mokoto to "Higashi Mokoto Moss Phlox Park" (for bus passengers only).
Moss Phlox in Takinoue (Takinoue Town)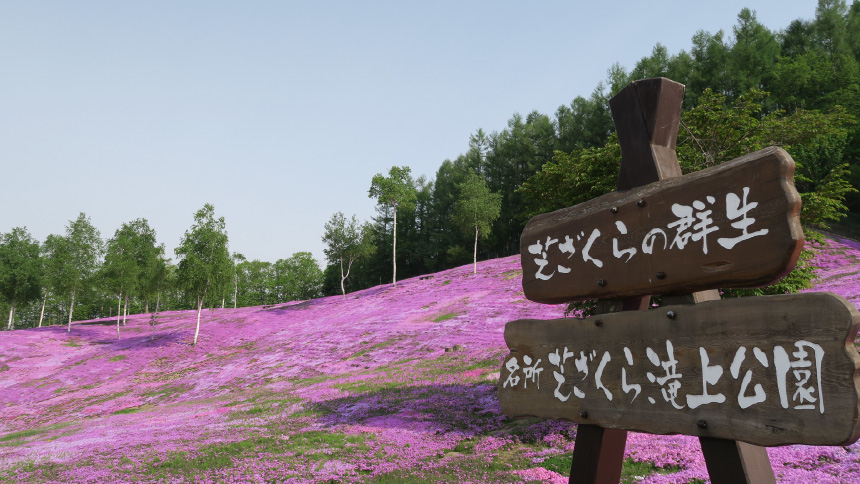 Now, it is Takinoue Town, which is relatively close to Monbetsu and Sounkyo Gorge, that is known as a sightseeing spot for moss phlox as well as Higashi Mokoto. During the best season of moss phlox, the beautiful scenery of the whole hills is colored in pink. Takinoue Park Phlox Garden is spreading on a vast site of approximately 100,000 sq. m. in the hill side of the town. At first, only a mandarin box of moss phlox seedlings were just planted. But it has expanded to the area as far as you can see.
There is also a helicopter excursion during the period and you can enjoy moss phlox from the sky. The season starts from early May and the best time is around mid-May to late May. You can enjoy blossoms until early June. From the nearest city, Monbetsu, it is about 70-minute bus ride, and also from Sapporo or Asahikawa, the interurban bus for Monbetsu is available.
Tulip in Kami Yubetsu (Yubetsu Town)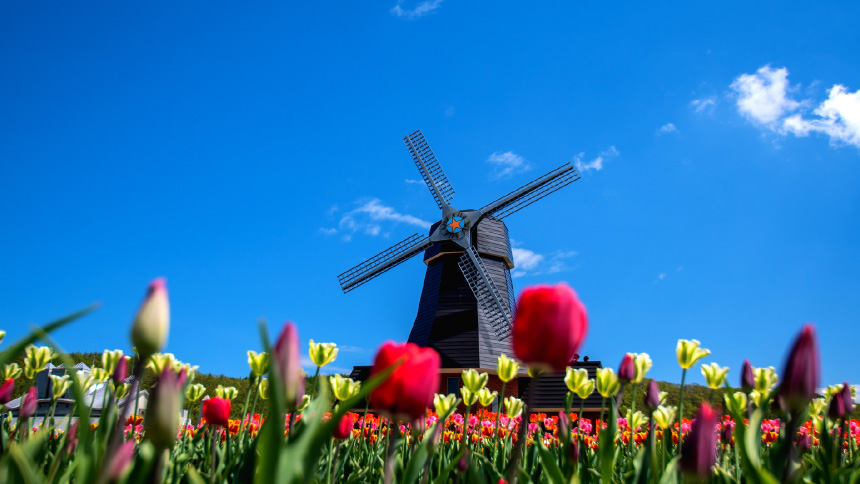 Well, lastly we will introduce a tulip field blooming all over there. It is "Kamiyubetsu Tulip Park" where Approximately 200 kinds, of about 1.2 million tulips bloom. A vast park of 12.5 ha. in Yubetsu Town facing the Sea of Okhotsk will turn into a tulip field as far as you can see in May. It is very impressive to see various colors and varieties of tulips in red, white and yellow. You can see the tulips in full bloom from the viewpoint along the national highway and the Dutch windmill observatory where you can overlook the entire park. During the period, "Dig, Catch and Buy" that you can pick your favorite tulips, and the "Tupit-go (electric bus)" that you can go around in the park are available. Other events will also be held. You can access the park with a 20-minute bus ride from JR Engaru Station, or approx. 50-minute bus ride from Monbetsu City.
The local tour reservation is here (Go to East Hokkaido Travel Lab.).