Higashi Hokkaido Food Trail
Hokkaido's food is delicious.From the Hokkaido grown vegetables and fruits, to the baked bread and sweets.
There is a reason for the appealing flavor of Hokkaido's foods.The natural features and climate. The care and dedication of the farmers and producers. And the restaurants and chefs, who take the time to procure the best ingredients.
Where do you want to eat? What do you want to see during your meal?
The deeper you go, the more you'll find that everywhere in Higashi Hokkaido has its own delicacies, which have their own reasons for being so good.
We will guide you on this food trail - a trip to enjoy different flavors and cuisines - and show you the delicious charm of Higashi Hokkaido, to satisfy both your heart and your palate.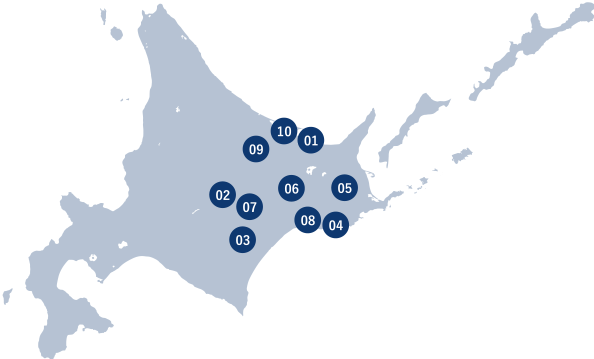 A trip to enjoy the "fruits of the sea" along the heavenly road of Okhotsk
Okhotsk TrailShiretoko - Abashiri - Monbetsu/Kitami - Sounkyo
A trip to go out of your way and eat refined gourmet food with natural ingredients
Garden TrailFurano/Biei - Asahikawa - Sounkyo
A trip at your own pace through scattered gourmet restaurants, cafes, and sweets
Garden & Rural TrailTokachi - Furano
A trip to get a thorough taste of delicious seafood and sea ingredients
Northern Pacific Ocean Shiretoko TrailKushiro - Nemuro - Rausu
A trip to taste sweets and gourmet food around Japan's dairy capitol
Nakashibetsu Milky TrailNakashibetsu - Teshikaga - Kushiro - Nemuro
A trip combining breathtaking nature and delicious food
Higashi Hokkaido Mitsuboshi Kaido (Three Star Road) TrailLake Akan - Lake Masyu - Shiretoko