A:Kitami Mint Memorial Museum
B:Advics Tokoro Curling Hall
C:Kitano Daichi No Aquarium (Yama No Aquarium)
D:Kitami Family Land
1:Mikakuen Sohonten
2:Hanmonten
3:Yojo Hormone
4:Kofuen
5:FARMER'S RESTAURANT MORSE
6:Hyakumanriki
Climate and Culture around Kitami
The terrain of Kitami is long and narrow stretching from the Sea of Okhotsk to the inland. The land size is the largest in Hokkaido and forth in Japan. The daytime hours are long, and the temperature sometimes hits 30 degrees Celsius in summer. Meanwhile, it' not rare that the highest temperature of the day is below the freezing point. This city is known as a mint-growing district which used to produce 70% of the world share. It was recently remarked as the home of the curling team "Loco Solare" who won a bronze medal in the Pyeongchang Olympics.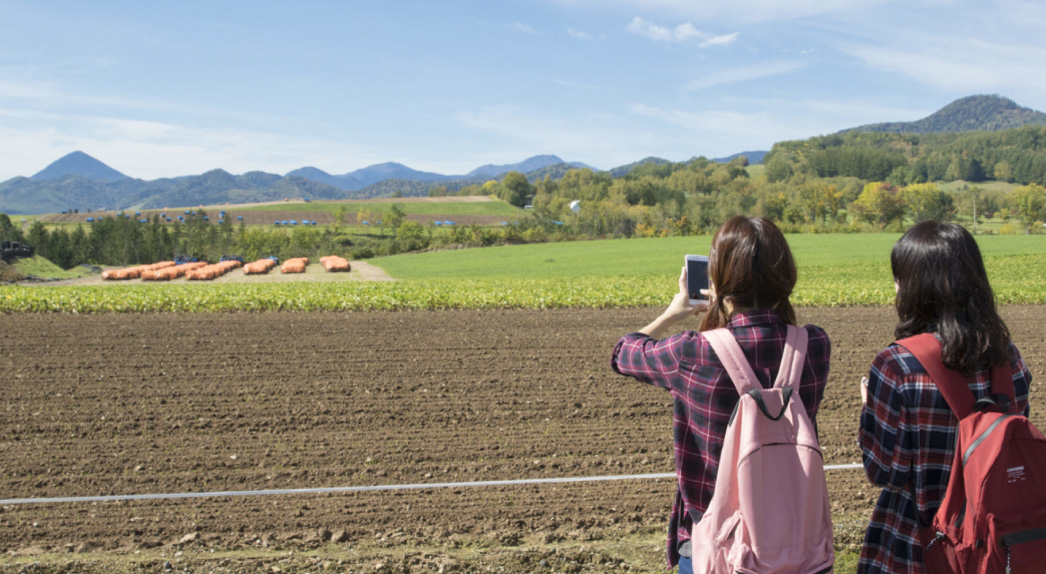 Cuisines and Food around Kitami
One of the main industries is onion farming thanks to its climate where the daytime hours are long and the rainfalls are less. Besides farming, it's also known as a city of yakiniku (Japanese-style BBQ). The culture was founded because there used to be a meat processing plant near Kitami Station, and fresh meat was easily accessible back then. It leads the nation in the production of white lupine beans, which are applied to high-class Japanese confectionery. Facing the Sea of Okhotsk and Lake Saroma, Tokoro is famous for its scallops.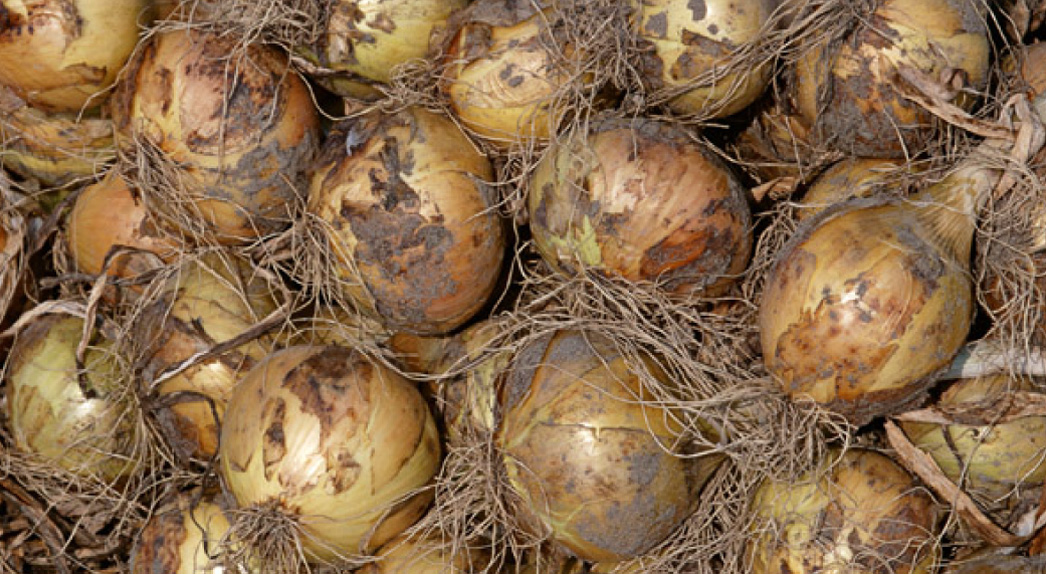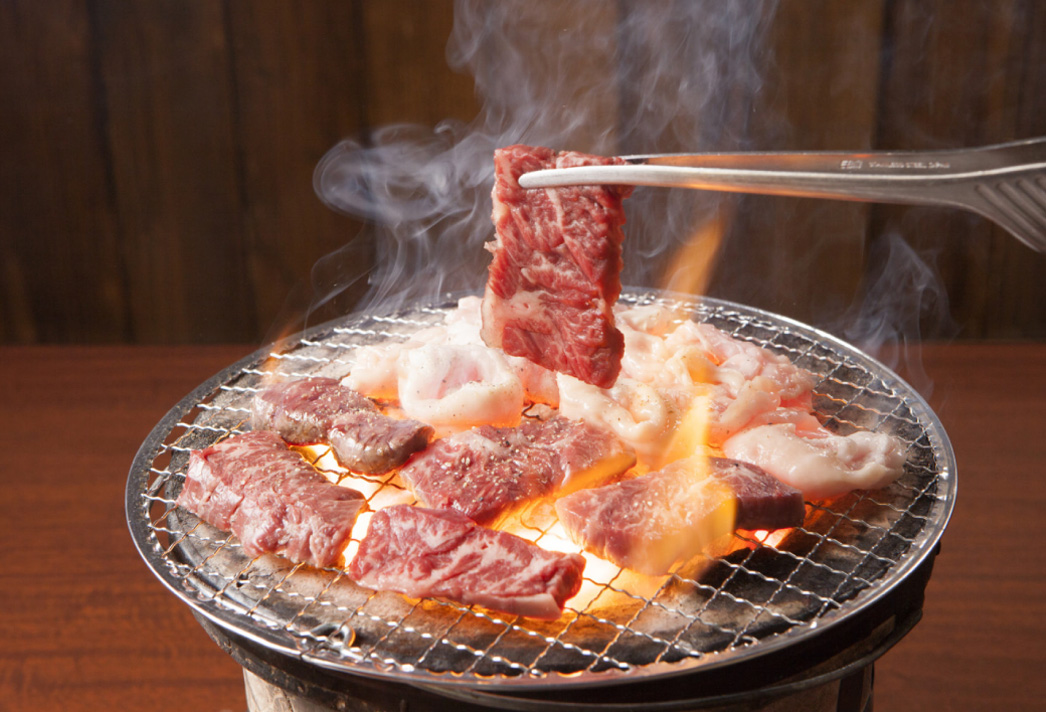 Standard menus of yakiniku in Kitami are inner parts such as pork offal called "hormone" and beef hanging tender called "sagari." Since the meat is so fresh that it's good with salt & pepper only, but dipping it in special sauce is delicious as well. Each restaurant makes its own special sauce with locally-produced onions and fruits without heating. One of the unique characteristics is that they use charcoal braziers which used to be manufactured as daily necessities. Local people in Kitami enjoy this Ktami-style yakiniku once a week. Many of the yakiniku restaurants in Kitami keep the doors open until late at night, so the common party style in Kitami is to go eat yakiniku, and then go drinking, and again come back to yakiniku. This is how much they love yakiniku in Kitami.
Reason to Recommend

The hospitality in yakiniku restaurants is great as well. Many of them provide wet towels and toothpicks which smell of pepper mint so that you can refresh. How about ending your night with fine cocktails after yakiniku? There're many cocktail bars which won a prize in cocktail competitions.
Six Recommended Kitami Yakiniku Restaurants
Mikakuen Sohonten

The interior is retro-chic inspired by those good old days in Japan. It's an old-established yakiniku restaurant and popular among a wide range of people from the local to the tourists. The specialties are aged beef and hormone managed for the freshness thoroughly. Its "Authentic ice-tighten raw hormone", which is tighten in iced water to boost the taste, is highly recommended.

Hours: Mon. – Sat. 5:00 PM – 11:00 PM Sun. & Holiday 4:30 PM – 10:30 PM
Address: Social Building 6F Kita 5 Nishi 4 Kitami
Phone: +81-157-25-6895

Hanmonten

It's a popular yakiniku restaurant that is always full of the local and tourist from opening to closing. A selection of high-quality meat goes good with salt & pepper, and its specialty "medon", a bowl with fried eggs and original sauce on rice, is of course a must-eat food. The rich and mild oxtail soup is recommended as well. This is the restaurant for those who want to enjoy yakiniku with rice and soup or those who want to end the day with yakiniku.

Hours: 6:30 PM to 3:30 AM
Address: Kita 7 Nishi 4 Kitami
Phone: +81-157-24-2626

Yojo Hormone

The meat comes directory from a meat processing plant in Higashimokoto every day. Not to mention the standard hormone and sagari, the miso-flavored hotpot with offal called "bonchi nabe" is exquisite. (*prior reservation required) With their sincere hospitality, every table is installed with a smokeless roaster unit, and even locker to put your coat is available.

Hours: 5:00 PM – 11:00 PM *Last order: 10:30 PM
Address: Tekkosen Building 2F Kita 4 Nishi 1 Kitami
Phone: +81-157-23-1927

Kofuen

This is an old-established yakiniku restaurant with a history of almost 50 years where you can have the traditional Kitami yakiniku of locally produced meat only. Its homemade dipping sauce and salt & pepper bring out the best flavor of the meat. Sashimi of rumen called "minosashi" and tasty stewed offal are the popular side dishes.

Hours: 5:00 PM – 10:30 PM
Address: Union Building 1F 2 Yamashita-cho Kitami
Phone: +81-157-24-4874

FARMER'S RESTAURANT MORSE

It serves "Hokkaido Morse Beef" produced in its own ranch. It has a wide range of menus including yakiniku and lunch dishes to let you fully enjoy the tender low-fat beef.

Hours: 11:30 AM – 1:30 PM, 5:00 PM – 10:30 PM
Address: 11-1 Nishi 2 Kita 3 Kitami
Phone: +81-157-33-3987

Hyakumanriki

A hormone & yakiniku restaurant owned by a butcher's shop. Its fresh hormone tighten in iced water brings out the best taste and texture of each cut. It possesses a license to serve raw meat certified as by the Ministry of Health, Labor and Welfare, so its exquisite "wagyu yukhoe (beef tartare)" and "beef sashimi" are safe to eat.

Hours: Mon. – Sat. 5:00 PM – 0:00 AM
Sun. & Holiday 5:00 PM – 10:30 PM
Address: Tanuki Square Building 2 1F 7-8 Kita 5 Nishi 3 Kitami
Phone: +81-157-31-5544
Coupons to Enjoy Kitami Yakiniku at a Reasonable Price
"Kitami Yakiniku Meatcoupon"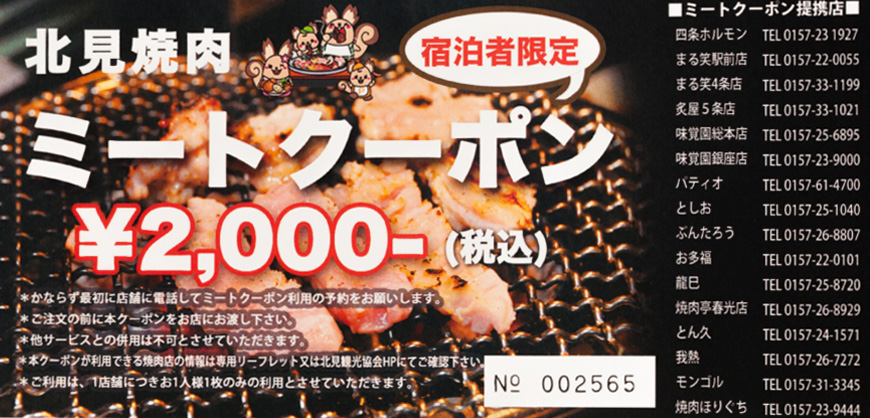 This coupon is only available to the guests of the affiliated hotels. By purchasing a coupon for 2,000 JPY at your hotel, you can save 500 up to 1,000 JPY to order special yakiniku set menu at one of the 16 participating restaurants.
Contact: Kitami City Tourism Association
Phone: +81-157-32-9900
Two Biggest Events to Enjoy Kitami Yakiniku
Kitami Mid-Winter Barbecue Festival

This is an outdoor yakiniku event held at night with the temperature of almost -10 degrees Celsius every February. It's so cold that even beer gets frozen, but all the participants surrounding charcoal fire seem to be happy and excited. This event has become the winter tradition of Kitami that people, not just the citizens, gather from all over Japan.

Date: Friday, February 7, 2020 5:00 PM – 8:00 PM
Place: special site at a parking area of Kitami Art & Cultural Hall
Fees: 2,000 JPY per advance ticket *limited to the first 2,100 tickets
Contact: Kitami City Tourism Association Phone: +81-157-32-9900


Kitami Nikumachi

It's an event held on the 29th day of every month that people gather at one of the yakiniku restaurants to simply enjoy dinner. Not only the citizens but also tourists can participate in this event. You instantly get to make friends with whoever sits at the same table once you surround charcoal fire. You might even be able to get some tips and advice for the rest of your trip from the participants.

Date: 29th every month
Place: Yakiniku restaurants in Kitami
Fees: Fees vary depending on the restaurant