Higashi Hokkaido Food Trail
No. 2 Garden Trail
Furano/Biei - Asahikawa - Sounkyo
A trip to go out of your way and eat refined gourmet food with natural ingredients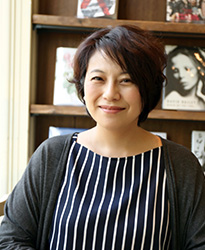 This Route's Delicious Details, according to food writer Yuki Konishiト
Vast fields of lavender, flowerbeds that scream of a gardener's instinct, rustically beautiful budding crops... This popular flowery trail focuses on letting you enjoy the delicious taste of vegetables from the rural landscape. With a temperature that fluctuates greatly depending on whether it's day or night, these vegetables' tastes are as strong as the plants themselves. You'll see a great new side of these vegetables as you sample authentic French and Italian cuisine, as well as visit farm restaurants. In addition, the area is also dotted with sake breweries and wineries, so you can enjoy the lovely marriage of drinks and gourmet food. The main city of the region, Asahikawa, has always been home to a beloved food culture, so come and take a bite for yourself!
Garden TrailFurano/Biei - Asahikawa - Sounkyo
No. 2 Garden Trail
Where you live -> (Asahikawa Airport/New Chitose Airport) -> Furano (lodgings)
Furano -> Biei (lodgings)
Biei -> Asahikawa -> Kamikawa/Sounkyo (lodgings)
Kamikawa/Sounkyo -> (Asahikawa Airport/New Chitose Airport) -> where you live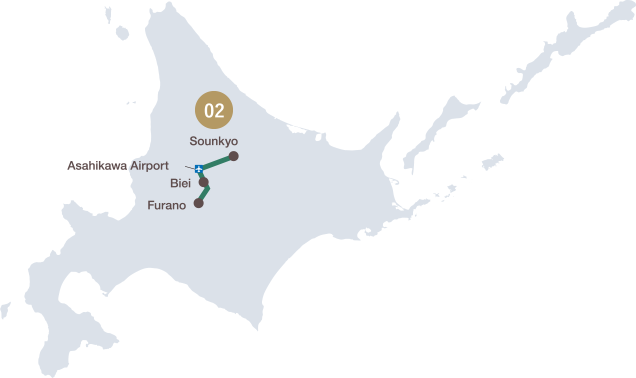 Tourist Attractions around Garden Trail
This is a trail where you can see the Hokkaido-like scenery that anyone has once imagined such as gently sloping hills, lavender fields blooming like purple carpets, and vast plains. Even an ordinary farm sight seen through the train window becomes an art in this area. Let's go and enjoy animal watching in Asahiyama Zoo in Asahikawa which is famous for "Behavior Exhibition" and Sahoro Resort Bear Mountain where wild brown bears live.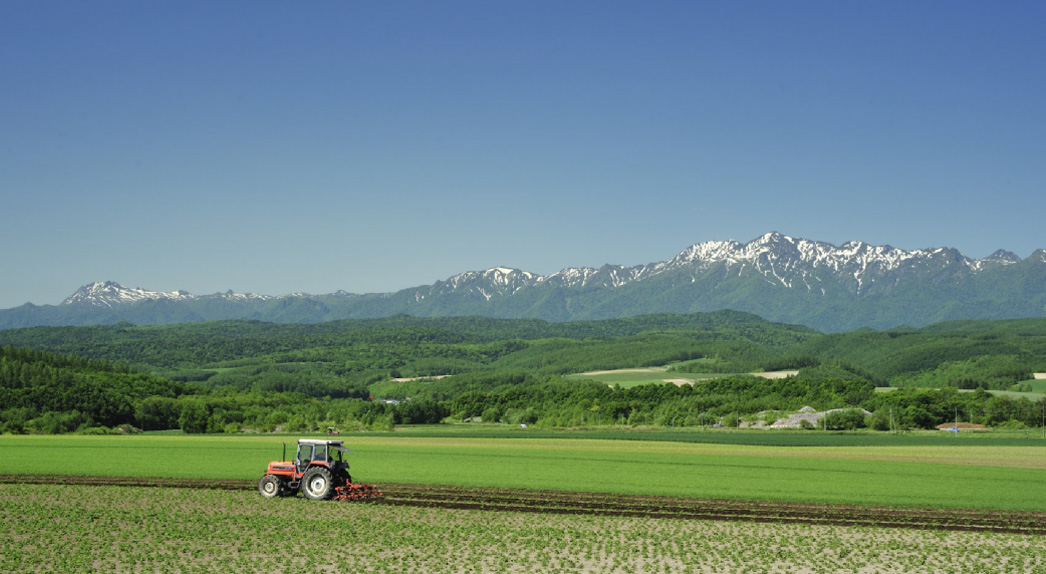 Cuisines and Food around Garden Trail
Have a tasty and beautifully dished up cuisine whose main food is the sweet vegetables produced under the climate where the temperature difference is extreme. Many cafes and restaurants, whose owners know the ingredients inside out, gather here to introduce the unique aspects of food that you haven't encountered yet. You can have freshly-picked vegetables at popular farm-to-table restaurants run by the farmers.